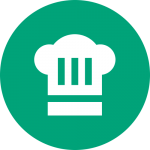 FREE
FEATURES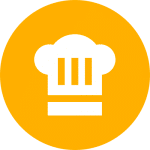 PRO
FEATURES
  Recipe Templates
Use shortcodes to build recipe layouts. If you come up with something great, save it globally to update all recipes to the same layout.
  Ingredients/Directions
Drag & drop them, add section headings & images to your directions.
  Cooking Timers
Your visitors can click or tap a timer to start a countdown. It supports multiple timers, pausing and timer resets.
  Nutrition Facts
Display a formatted nutrition facts label that updates automatically if your visitors change the serving size.
  Printable Recipes
Visitors can choose only the parts of the recipe they need to print.
  Full-Screen Mode
Great when cooking in the kitchen! A quick glance shows everything on one screen with most recipes.
  Browse & Search
View recipes in a beautiful grid layout by category and/or keyword, and then sort them by name, date, and more.
  Photo Galleries
Each recipe can have one; complete with captions, a mobile friendly slider, and you can even add a YouTube or Vimeo video.
  User Profiles
Each user can view their own recipes, favorites and update their information. A registration & login form are also included.
  Recipe Submissions
Allow recipe submissions from a front-end recipe form, complete with the same drag & drop capabilities found on the backend.
  Favorite Hearts
Your visitors can favorite recipes and then view them all from their profile.
  User Ratings
Users can add a star rating (or a thumbs up/down) to each recipe. If they happen to leave a comment as well, their rating will show up with it.
  Social Sharing
Recipes can easily be shared to Facebook, Twitter, Pinterest (supports rich pins), Google Plus and via Email.
  Ajax Pagination
Two great new pagination styles: "Load on Scroll" and "Load More Button". Both of which load the next page of recipes inline. No extra page loads!
  Modern Grid Layout
A cleaner take on the default grid style. All recipes are the same height and contain more concise information.
  Full-Width Layout
Beautiful full-width images, complete with a title, excerpt and interactive features overlaid on top.
  Compact List Layout
A great layout for keeping things simple. Looks similar to a blog-style layout.
  Cuisines
A Cuisine taxonomy is included, allowing you to file & sort your recipes by cuisine (French, American, etc.).
  Cooking Methods
A Cooking Method taxonomy is included, allowing you to file & sort your recipes by method (baking, grilling, etc.).
  Recipe Tags
A Tag taxonomy is included, allowing you to file & sort your recipes by tag. These are handled like hashtags and will show up with Twitter/Pinterest shares!