It's a toss-up which part of this dish is best: the tender meat with rich tomato flavor, or the luscious root vegetables that sit beneath it during braising, soaking up juices from the brisket and wine.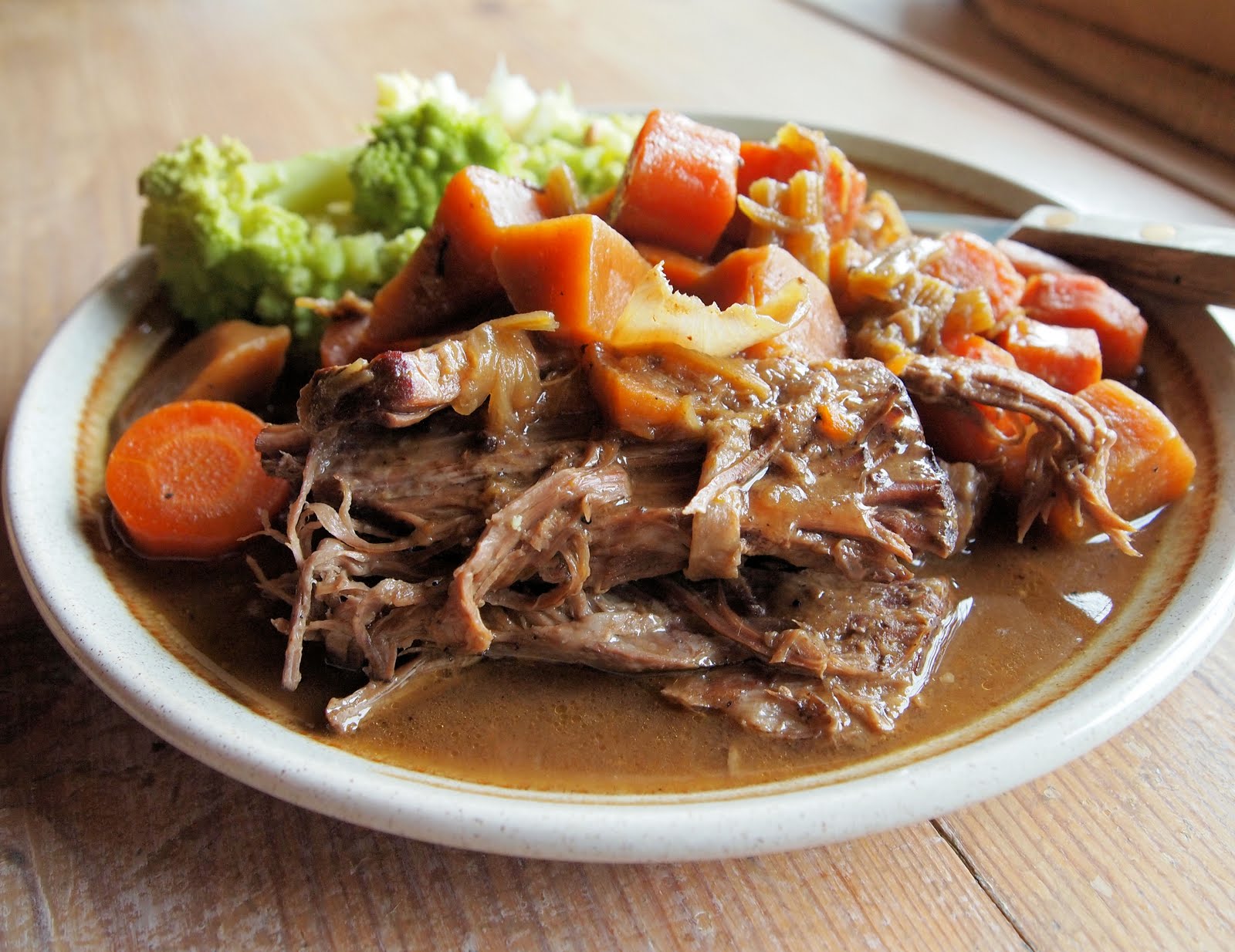 Prep Time15 mins
Cook Time4 hrs 45 mins
Total Time5 hrs
4
lbs
beef brisket, preferably first cut, trimmed of excess fat
Kosher salt and freshly ground black pepper
1
large yellow onion, thinly sliced
4
tsp
chopped fresh thyme
1
cup
dry red wine, such as Cabernet Sauvignon
1
28-ounce can diced tomatoes
1 ½
lbs
baby red potatoes
1
lb
carrots, peeled and cut into 3-inch-long pieces
1
lb
parsnips, peeled and cut into 3-in-long pieces, halved lengthwise if very thick
1
Preheat the oven to 325 degrees F. Pat the brisket dry and sprinkle with 2 teaspoons salt and 1/2 teaspoon pepper. Heat the oil in a large stovetop-safe roasting pan over medium heat. Add the brisket and cook, turning with tongs, until browned on all sides, about 12 minutes. Transfer the brisket to a plate and set aside.
2
Add the onions, garlic and thyme to the pan. Cook, stirring, until the onions are soft and translucent, about 7 minutes. Add the wine and 1/2 cup water, scraping up the browned bits from the bottom of the pan with a wooden spoon. Add the tomatoes with the juices from the can, 1/2 teaspoon salt and pepper to taste. Return the beef to the pan along with any accumulated juices; increase the heat to medium-high and bring to a simmer.
3
Remove the roasting pan from the heat and add the potatoes, carrots and parsnips around the sides of the brisket. Tightly cover the roasting pan with aluminum foil and roast until the brisket is very tender and a fork will easily pierce it, 3 1/2 to 4 hours.
4
Transfer the brisket to a cutting board and the vegetables to a large serving platter. Cover and keep warm. Skim the fat from the top of the juices in the roasting pan. Place the roasting pan over medium heat on the stovetop and bring to a simmer. Cook until the sauce has reduced by more than half and is similar to a thick gravy, 15-20 minutes. Slice the brisket against the grain and transfer to the platter with the vegetables. Season the sauce with salt and pepper and spoon a bit over the slices. Serve the remaining sauce on the side.